Why Projects are important in Engineering?
As an engineer for first 3 years we learn basics Of design & technology. In the Projects we are supposed to use all our knowledge and technical skills. In leading global Universities the final year engineering project is combined with industry internship. Industry standard B.E. Project with Internship can open doors to Good Jobs or P.G. in Technical field.
CADCAMGURU-ACE has designed a special online program for Industry standard projects.
CCG has prepared a bank of Industry Standard Projects along with the Industry experts.
CADCAMGURU-ACE experts will train, guide, mentor, and examine the project throughout this process.
How CCG can help you for your BE Projects using PLC Programming with SCADA /HMI /VFD?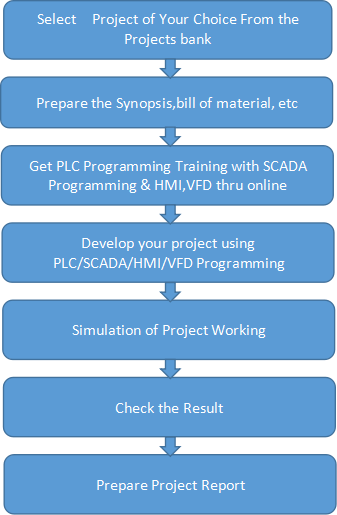 Benefits To Students
Industry Standard Projects. Online Learn & Work On Projects.
Learn PLC Programming along with SCADA/HMI/VFD.
Internship Certificate.
Technical Training / Guidance Throughout Project Execution.
Mock Interviews From Industry Experts.
Cost Effective- No investment in H/W & S/W procurement.
Get Ready for Job With Your Project.
Projects Using PLC , SCADA Programming with VFD & Pneumatics
Now a days Every Industry is moving towards the Automation. For automation Industry uses technologies like PLC/SCADA/HMI.
PLC means Programmable Logic Controller which is used to Perform various operations like Logical , Sequencing, Arithmetic, Timing & Counting.
PLC automation projects have application in a wide variety of industries including manufacturing, packing, cleaning, transportation and more.
SCADA means Supervisory Control & Data Acquisition which is used for Large Scale application where Monitoring & data acquisition of machine/Process is required.
CADCAMGURU is one of the Best automation institute in Pune which offers PLC Course , SCADA Course , HMI Courses.
We also offer Projects for BE students which is based on PLC programming , SCADA Programming , HMI Programming , VFD & Pneumatics.